Richard Stallman's Personal Site
Send comments/questions about the search engine to: rms at gnu dot org
RSS site feed for the most recent political notes and new material.

This is the personal web site of Richard Stallman.
The views expressed here are my personal views, not those of the Free Software Foundation or the GNU Project.

If you want to send me GPG-encrypted mail, do not trust key servers! Some of them have phony keys under my name and email address, made by someone else as a trick. See gpg.html for my real key.
Please consider the Free Software Foundations's Ethical Tech Giving Guide this holiday season.
The largest part of the site is the political notes, and they are typically updated every day.
I'm looking for people to…
(in India) make and sell buttons that say, "DON'T BE TRACKED PAY CASH", to resist the campaign against cash. Talk with a local company that makes buttons, buy a batch of 50 to 500 buttons for a quantity price, then sell them for 2 or 3 times that price.
help install new political notes on the site. If you'd like to help me in this way, please write to rms at gnu period org.
post videos of my talks on audio-video.gnu.org.
write a recipe for how to connect to the WiFi in a Mcdonalds without running its nonfree Javascript code. The recipe could include a free Javascript program I could run, or it could consist of instructions for what I would type into IceCat (our variant of Firefox). It doesn't have't be super convenient, it just has to work.
write a recipe for how to connect to the WiFi in a New York City subway station without running its nonfree Javascript code. The recipe could include a free Javascript program I could run, or it could consist of instructions for what I would type into IceCat (our variant of Firefox). It doesn't have't be super convenient, it just has to work.
help maintain and operate savannah.gnu.org.
help web sites put free licenses on their Javascript code.
write site-specific Firefox extensions or local scripts to operate specific web sites.
help webmasters of various sites (not related to me or GNU) make simple but substantial changes in their web sites — for instance, to use the GNU Project's recommended terminology.
experiment to find good ways to attach fruits to a Grav-mass tree.
Please email rms at the gnu site if you want to volunteer for any of those activities. For the Grav-mass decorations, please write if you come up with a good way.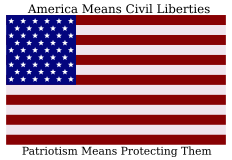 graphic by Susan Henson
Americans, you may wish to copy this icon to your own page, as a way of showing what patriotism means to you.
In the US: join a rally near you to preserve the US government's support for medical care, now threatened by Republicans.
US citizens: call on Sessions to appoint a special prosecutor to investigate the administration's ties to Russia.
US Citizens: oppose union-weakening "right to work" laws at state and federal level.
US citizens: call for impeaching the troll now.
US citizens: sign up for meetings this week with your congresscritter and staff.
US citizens: call on Congress to legislate Bannon's removal from the National Security Council.
Everyone: call on the Ladies Professional Golf Association not to hold its tournament in the troll's golf course.
US citizens: call on Senate Democrats to defend the Consumer Financial Protection Bureau.
US citizens: Support the bill to prohibit a US nuclear first strike.
US citizens: call on Congress to investigate White House ethics violations.
US citizens: support the Global HER Act which would overturn the global gag rule.
This petition is run by Population Connection, which I am a member of.
US citizens: Tell the US not to target survivors of domestic abuse for deportation.
Everyone: tell Oklahoma legislators: don't let men veto abortion.
US citizens: call on Congress to reject the troll's budget cuts.
UK citizens (and anyone else): Support Liberty's campaign against the snooper's charter by sending a donation to

Liberty
The Royal Bank of Scotland
Sort Code: 15-30-00
Account Number: 71186809

or by mailing a check to

Liberty House
26-30 Strutton Ground
London SW1P 2HR.

They also accept donations digitally, but their web site requires nonfree software to do that, and you shouldn't run nonfree software.
US citizens: call on US prisons that implement virtual visits with prisoners not to use this as an excuse to ban real visits.
I am worried about these virtual visits. Does the visitor have to run a nonfree program? I suspect it does.
US citizens: call for continuing research about pollinators despite the troll's hiring freeze.
You will need to use the Salsalabs method to overcome a Javascript problem.
US citizens: call on the troll to stand by the Paris climate agreement. It's insufficient to avoid disaster but it will reduce the disaster somewhat.
The White House comments line is 202-456-1111.
Everyone: thank the US football players that refuse to visit the troll.
US citizens: call on the House Judiciary Committee to investigate the troll's conflicts of interest and connections to the Russian government.
US citizens: call for Keeping wolves in Alaska protected on wildlife refuges.
US citizens: phone your Democratic senators and urge them to stand firm against Gorsuch.
The Capitol Switchboard numbers are 202-224-3121, 888-818-6641 and 888-355-3588.
US citizens: call on Congress to support HR 608, which is designed to pressure Salafi Arabia about its war in Yemen since that makes it an ally of al Qa'ida.
Recording of Guantanamero
Listen to the
recording
of
Guantanamero
, a protest song written in Spanish. The recording is in Ogg Vorbis format. To install an Ogg Vorbis player, see
the FSF's Ogg Players page
.
To treat a payment to a foreign company as a tax-deductable business expense, that company should have to disclose its true owners, and whatever other information is needed to prevent tax dodging.
Businesses should be heavily fined if they use subcontracted workers to do any given kind of work for more than 120 hours in each of 4 successive months. If a business steadily needs that much work of a given kind, it should hire regular staff to do the work and give them regular benefits.
No sports team can receive a subsidy from any US jurisdiction, and that include's the team's stadium or other facilities.
Companies that are among the ten largest in any market should not be allowed to merge — period.
Any company that wants to use genetically modified organisms other than in research should be required to get a license from the state. One condition of the license should be a requirement to answer (for publication) any and all questions posed by regulators about the organisms, their planned use, and the experiments done on them. Thus, any aim of the company to keep secrets about them will be categorically rejected in advance.
If a company has changed its name within the past 5 years, or if a substantial part of it was acquired from another company, it should be legally required to include a statement with the old name in all its publications, announcements, and paid publicity. This would foil companies like Blackwater and Philip Morris that change their names to escape the odium of their past deeds.
Quotes
Here are some quotations that I particularly like.
[More Cartoons]
---

Copy this button (courtesy of R.Siddharth) to express your rejection of Facebook.
---
---
---
---
---
---
---
E-books
Non-oppressive Commercial E-books
---
Don't use Facebook
Facebook's face recognition demonstrates a threat to everyone's privacy. I therefore ask people not to put photos of me on Facebook; you can do likewise.
Of course, Facebook is bad for many other reasons as well.
---
---
---
---
No national identity cards
I'd like to make a list of countries that do not require a national identity card, and have no plans to adopt one. If you live in or have confirmed knowledge of such a country, please send email to rms at gnu.org.
Here's my list of countries with no national ID cards and no plans for one: Australia, Canada, Ireland, New Zealand, UK, the Philippines. Australia's previous government tried to institute national ID cards, but the Labor government dropped the plan.
India is now trying to institute national ID cards.
Switzerland has national ID cards which are optional, but they or some other government ID card are needed for some purposes.
Iceland doesn't have ID cards as such, but they have ID numbers that citizens are forced to use frequently. For example, the national ID number is often required to rent a video or use a gym.
Denmark issues non-photo ID cards with a "person number", and many services use this card to identify people.
Norway will impose a national biometric ID card.
Wikipedia has a list of identity card policies by country.
---
Borders
Stay away from certain countries because of their bad immigration policies.
---
Flight connections
Avoid flight connections in these airports because of their treatment of passengers.
---
The Lifelong Activist
People often ask how I manage to continue devoting myself to progressive activism (such as the free software movement) for years without burning out. The best way I can answer is by recommending a book, The Lifelong Activist by Hillary Rettig.
I disagree with the book on one theoretical point in the last part of the book: we shouldn't think of political activism as being marketing and sales, because those terms refer to business, and politics is something much more important than mere business. However, this doesn't diminish the value of the book's practical advice about borrowing techniques from marketing and sales.
Disclosure: I am friends with the author.
---
Mimi and Eunice
The Mimi and Eunice book by Nina Paley is great.
---
Solidarity Economy and Free Software
Personal Declaration of Richard Stallman and Euclides Mance on Solidarity Economy and Free Software.
---
---
These are my political articles that are not related to the GNU operating system or free software. For GNU-related articles, see the GNU philosophy directory. You can also order copies of my book, 'Free Software, Free Society, 3rd edition', signed or not signed.
"Those who profess to favor freedom, yet depreciate agitation, are men who want crops without plowing up the ground. They want rain without thunder and lightning. They want the ocean without the awful roar of its many waters. This struggle may be a moral one; or it may be a physical one; or it may be both moral and physical; but it must be a struggle. Power concedes nothing without a demand. It never did and it never will."
Here are notes about various issues I care about, usually with links to more information. The current notes are here. For all previous notes, see this page.

Political notes about the 2001 G8 summit in Genoa, Italy are being archived on their own page
Media/Press/Bios
Richard Stallman's bio and publicity photos, and other things of interest to the press, have been moved to a separate page.
---
Earth under attack from planet Koch.
On doxing, and how to spell it.
A Spanish cartoon: La Ruleta Española.

Here I am wearing my "power tie".
Here I am struggling to open a bottle of water.
My application to an join Marian Henley's Ex Boyfriends List
My funny poetry and song parodies
New song (06/2016) - Si la face ay pale.
My Puns in English (Catholics, January 2017).
My Puns in Spanish (New pun: El jaguar muerde December 2015)
My Puns in French (new pun: la peine et Le Pen February 2017)
My Puns in Italian (New 09/2014)
My Puns in German (New 02/2016)
Linguistic Swifties (Now with: Wintu, Penutian, Cochiti, Taos, and Towa.)

--Saint IGNUcius-- The Church of Emacs will soon be officially listed by at least one person as his religion for census purposes.
There are no godfathers in the Church of Emacs, since there are no gods, but you can be someone's editorfather.
Stallman Does Dallas: "I have to warn you that Texans have been known to have an adverse reaction to my personality . . . "
The Dalai Lama today announced the official release of Yellow Hat GNU/Linux.
I found A funny song about the Mickey Mouse Copyright Act (officially the Sonny Bono Copyright Act) which extended copyright retroactively by 20 years on works made as early as the 1920s.
If you are a geek and read Spanish, you will love Raulito el Friki, who said "Hello, world!" immediately after he was born. Here's an archive of this now-defunct comic strip.
Sleeping with Stallman at MIT.
ESR's favorite programming language: Objectivist C.
The huns and the writs. I don't know who wrote this, but I hope he does not object to sharing it here.
No Kludges in Cluj (June 2014)
A science fiction story: Jinnetic Engineering (in Portuguese, Farsi, Spanish, Armenian, Russian, French, and Italian).
Made for You (December 2012) (local copy)
My book of essays about the philosophy of Software Freedom, is available from the GNU Press.
Avec des chapeaux French song parody.
My radio program of Music from Georgia, originally broadcast on WUOG in Athens, Georgia on Oct 13, 2014.
Quantum Theory and Abortion Rights
A proposal for gender neutrality in Spanish, suitable for both speech and writing.
On Hacking: In June 2000, while visiting Korea, I did a fun hack that clearly illustrates the original and true meaning of the word "hacker".
Predicting the attack on Pearl Harbor
I would like to thank:
Positive Internet for sponsoring this web site.
Pawel Bokota, Lake Denman, Mark Eriksen, Eduardo Freitas, and Joe P. Lee for installing new text.
Mark Eriksen for providing the new search feature.
Craig Metrolis for working on making pages valid html.
John C. Vernaleo for helping to run the site.
Graziano Sorbaioli for improving the layout of the main page.
---
Please send comments on these web pages to rms at gnu period org.
Copyright (c) 1996, 1997, 1998, 1999, 2000, 2001, 2002, 2003, 2004, 2005, 2006, 2007, 2008, 2009, 2010, 2011, 2012, 2013, 2014, 2015, 2016, 2017 Richard Stallman
Verbatim copying and redistribution of this entire page are permitted provided this notice is preserved.
Verbatim copying and redistribution of any of the photos in the photos subdirectory is permitted under the Creative Commons Noderivs license version 3.0 or later. You can copy and redistribute the photo of me playing music to the butterfly under the Creative Commons Noderivs Nocommercial license version 3.0 or later. Any other photos of me in this (the toplevel) directory may be copied and redistributed under the Creative Commons Noderivs license version 3.0